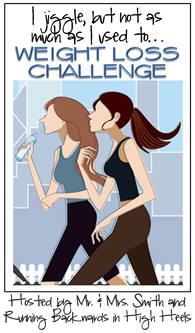 Another week down....and 2 lbs down! I just knew with Easter and all the junk I consumed and not being able to exercise at the beginning of the week (because we were stuck in closets because of tornadoes...) that I was going to have a big gain. I stepped it up at the end of the week and worked out 4 times but I was still surprised that I lost 2 lbs.
Exercise:
I did 1 Zumba class, 1 day of cardio and weights and 2 runs. I can't believe what I am about to type...but I actually like running. Anyone who knows me, go ahead and pick yourself off the ground! Yes, I just said that and no, I haven't lost my mind! I started out on my run last night and realized how fun it was to get out there
by myself
and just clear my head. I had so much "fun" that I ran again this morning. Now, I still huff and puff like crazy but I am actually beginning to like it.
I also have a recipe to share. I am on Weight Watchers and I am trying to tweak my recipes to make them lower points. We LOVE us some Mexican food so I wanted to post what we eat at least once every other week. Jason and the boys love it!
Chicken Fajitas:
2 or 3 boneless, skinless chicken breasts
1 bag of frozen 3 color peppers and onions (feel free to use fresh produce but as a full time working mom, this saves me some time by not having to cut everything up.)
reduced sodium taco seasoning
whole wheat tortilla wraps
fat-free refried beans
toppings: reduced fat cheese and sour cream, tomatoes, black beans...whatever you like
Cut your chicken into strips and throw them in a hot pan or wok. Toss those around and when they are cooked through, throw in the onions and peppers. Cook for 5 minutes and put in a little water and your taco seasoning. Cook until thickened and make your fajitas however you would like.
They are SOOOO yum! I eat mine with a big side salad and spray Balsamic salad dressing.
Hudson even agrees that they are good...
...make that finger-licking good.
*If you are on Weight Watchers, the whole dinner is about 10 points. Not too bad and VERY filling!
That is all for week 4. 6.8 lbs down on this challenge and 10.8 total. Next week, I hope to have a BIG announcement.