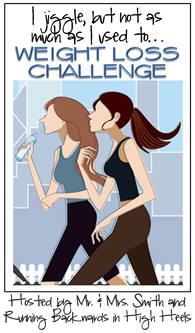 Week 2 of this weight loss challenge went really well. Since I started the challenge last Thursday, I have had 2 weigh-ins (since I weigh in on Saturday mornings). Last Saturday, I lost 1.6 lbs and this week, I lost 1.4 lbs. That's 3 lbs (8 lbs. total since starting on March 12).
Exercise: Saturday and Sunday we walked ALL. DAY. LONG. at the zoo (and I might add pushed a heavy stroller loaded down with things-not an easy feat). Tuesday and Thursday, I did an hour of Zumba. This week, I am planning on stepping up the work outs.
Eating: I did pretty good with eating. I am actually enjoying eating vegetables and trying new things. (Who thought I would like spaghetti squash and broccoli?)
I am 3 lbs. closer to my 8 week goal of 12 lbs!