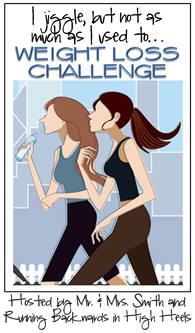 One of my resolutions this year was to lose weight. (Who's isn't though, right?) A few weeks ago, I joined Weight Watchers and so far through that I have lost 5.6 lbs. I saw this challenge on a few blogs and thought "What the heck, lets do this!" Now, I will NEVER put my starting weight on here. (Maybe in December when I am all hot and svelte, I will drop that number on you, but not right now.) I will tell the percentage of weight that I lost that week.
Over these 8 weeks of this challenge, I am setting a goal of 12 lbs-just 1.5 lbs. a week. How am I going to do this?
*Working out Mon, Tues, Wed, and Sat. My church has started a Zumba class 2 nights a week and it is actually pretty fun. I also do the elliptical on Wed. and do some sort of cardio on Saturday.
*Eating...We are eating a TON of chicken. Also, we are loading up on fruits and veggies. I am keeping up with my weight watcher points as well.
So, here I go...pray for me! =)